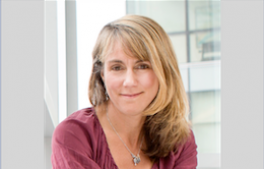 Annie Brewster
No
Yes
Interviewee
Annie Brewster, MD, is a practicing physician at Massachusetts General Hospital in Boston, an assistant professor at Harvard Medical School, and a patient living with Multiple Sclerosis since 2001. She founded Health Story Collaborative (HSC) in 2013.
HSC is a 501 (c)(3) organization founded on the belief, and supported by research, that storytelling promotes health. Through direct service programming, HSC works to empower patients and their loved ones to build community, strengthen patient-provider connections, and ultimately  transform healthcare through storytelling. HSC programs use storytelling to promote social change by addressing real-world problems, such as the current opioid overdose epidemic.
Annie's work has been published on the WBUR CommonHealth Blog, NPR.org, the New York Times Well Blog, Boston Globe and MS Focus magazine, among other publications. She has been featured in Harvard Medicine magazine and on the cable television program About Health with Jeanne Blake. She presented at TEDx Fenway 2014.
www.healthstorycollaborative.org
https://www.instagram.com/healthstorycollaborative/
https://www.facebook.com/healthstorytelling/